Meet Crisis…
Jeff Cross – Bret "Dizzy" Desmond – Dane Thomson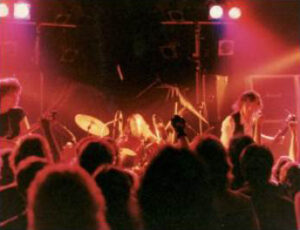 Spawned in the early 80s, Salt Lake City based Crisis was an anomaly in the U.S. metal scene. At a time when many U.S. metal bands emulated the pop-infused "fashion-before-fury" L.A. style, Crisis did not. Their sound was revved up, raw, and noisy. The band drew their inspiration from the rough and ready vibe of Rory Gallagher and the frenetic energy of NWOBHM bands like Raven. Not surprisingly their biggest following was always in Europe. Their 1983 debut record Armed To The Teeth on England's Bullet Records (Pretty Maids, Wrathchild, Black Rose) received remarkable attention from the European press. Kerrang! said Crisis was better than anything coming out of Los Angeles at the time, and so they were.
Their second album Kick It Out was scheduled for release in early 1985 but Bullet Records unexpectedly went bankrupt and a long international legal battle ensued before the band could retrieve their master tapes. Consequently the album's release was delayed more than a year costing the band much of its momentum. Complicating matters, Kick It Out was only released in the United States and thus never reached the band's European fan base. With the benefit of hindsight, it's clear that the band was indeed in crisis.
Crisis struggled on for three more years surviving multiple personnel changes. They managed to record one more album called Rough Night that came out of the final mix so poorly that the band refused to release it except as a free gift to longtime fans. These gifts were nothing new for devotees of Crisis. The 1985 "Keep Fighting" c/w "Kick It Out" 7" single was available at no charge from the band and a 1986 compilation album called Metal Warriors on Europe's Other Records (Virtue, Hydra Head, Not Fragile) featuring a non-LP version of "Keep Fighting" was also freely distributed by Crisis to fans in their upon request.
In 1989, burned out and jaded, Crisis stopped actively gigging and rehearsing. They still made occasional trips into the studio resulting in a tidy collection of demo tracks and one more full-length album  appropriately titled Hard Bargain. Ironically, as the band's activity decreased, interest in their music increased, especially the first two records. Every decade seemed to bring a new collection of Crisis classics. In the 1990s Saved From Extinction combined tracks from the first two records with two unreleased songs from the Kick It Out sessions. In the 2000s Armed and Kicking and Cross-Thomson both featured many of the classics as well as tunes from Hard Bargain and various demos. In 2010 a burgeoning Shadow Kingdom Records (Haunt, Night Demon, Exciter, Blood Star) released a double CD package that included Armed to the Teeth and Kick It Out in their entirety plus 13 additional tracks spanning the band's recording career.
Which brings us to 2020 and the definitive Crisis collection titled Armed and Kicking – The Best of Crisis on Ragged Sails Records. This two CD set features tunes from every Crisis album plus an entire live-in-the-studio demo session of Kick It Out tunes that has never been released before. Everything has been remixed and remastered at Imperial Mastering by Colin Davis (of the band Vile) who managed to preserve the primitive 80s production while driving it out of the speakers more clearly than ever before. Additionally, a new lyric video for "Crank It Up" and "Blue Roses" is available. A new website, Crisisslc.com was launched in late 2020.
Whether you've followed Crisis for decades or only recently discovered them; if you consider yourself a devotee of 80s hard rock and metal, now is the time to crank it up, cut it loose, and kick it out!